Cat Track Outfitters, LLC
Mountain Lion Hunting Pictures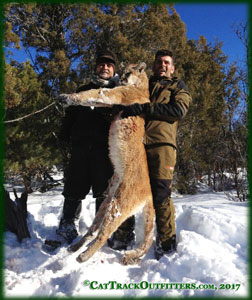 Our Colorado hunts have been successful enough to have many of our clients recorded in Boone & Crockett or Pope & Young with record-book mountain lions.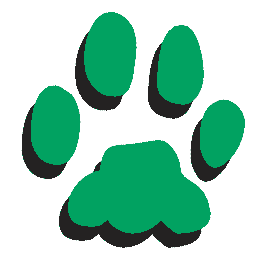 Email Us!

Guided Mountain Lion Hunts
with Fred Wallace and his experienced hunting guides at Cat Track Outfitters in Western Colorado
Get Up Close and Personal!!
Cat Track Outfitters has a 98% success ratio... 
That's just one of the reasons why their lion hunters keep returning and offer excellent referrals.

Mountain Lion Hunting -
an experience to remember!
Plan your next guided mountain lion hunting trip to Colorado with Cat Track Outfitters.

Bring your camera!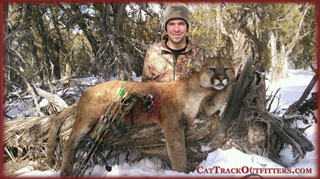 2015-2016 Mountain Lion Hunting season
you can choose to hunt with rifles or bow and arrows.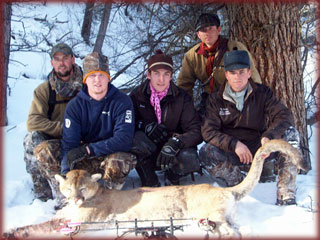 Craig, Jeremy, Lon, Dillon & Ty
Colorado mountain lion hunting at its finest!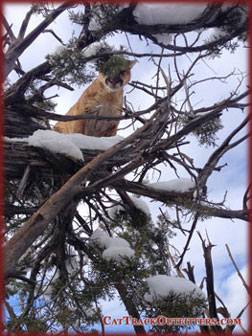 Let our professional outfitters outfit you and take you on a guided mountain lion hunt in Western Colorado
Known as cougars or mountain lions, these cats make Collbran Colorado their home...
Choose Cat Track Outfitters!
Book Now!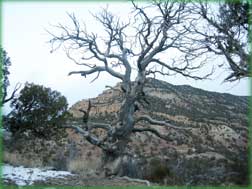 CO Mountain Lion Terrain
You know you want to be here!
Come hunt cats with Cat Track Outfitters - Colorado rifle & archery hunting guides.
Book now!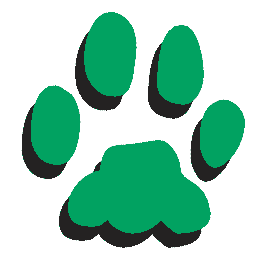 Email Us with any questions, for more information or to book a hunt!
Dates & Rates

You can ask hunters from all over the WORLD what a guided mountain lion hunt with Cat Track Oufitters is like!
Successful mountain lion hunts...
many clients' record-book toms are recorded in Boone & Crockett...
and more record-book toms are in Pope & Young from our guided archery hunts...
By now you know that you don't want to miss Colorado guided mountain lion hunting with professional guide & outfitter, Fred Wallace!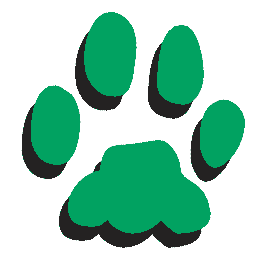 Book online!
or call 970-210-0951
Contact Cat Track Outfitters
to schedule your next CO
guided mountain lion hunting trip.

What are you waiting for? Permission?
Permission is Granted!
Contact Cat Track Outfitters today!
All I can say is book early!
Dates & Rates

970-210-0951
Fred Wallace
, Professional Hunting Guide & Outfitter
Cat Track Outfitters LLC

PO Box 91, Collbran Colorado, 81624
licensed, bonded, insured - Colorado license #2448

Cat Track Outfitters, located in Collbran Colorado (about 40 miles East of Grand Junction CO in Mesa County and 50 miles from the Utah border), has guided and outfitted hunters from Jonesborough TN, Frankton CO, Appleton WI, Denver CO, Palisade CO, Finleyville PA, Fort Scott KS, Chicora PA, Greenfield IN, St. Cloud MN, Moore TX, LaGrange GA, Broomfield CO, Akron NY, Waymart PA, Lake Ariel PA, Coushatta LA, and many other towns in AR, AZ, CA, CO, FL, GA, IL, IN, KS, KY, LA, MA, MD, MI, MN, MO, MS, MT, NC, ND, NE, NJ, NV, NY, OH, OK, OR, PA, TX, UT, WA, WI, WY. Seeing and getting in close to the big game when you take a guided deer hunt or a guided mountain lion hunt is a delight almost all hunters enjoy with Cat Track Outfitters. Experienced, professional hunting guides and outfitters will take you on an unforgettable Colorado hunting trip.
© Cat Track Outfitters, LLC
PO Box 91, Collbran Colorado, 81624
Fred Wallace, Professional Hunting Guide & Outfitter